General Officers Sword and Scabbard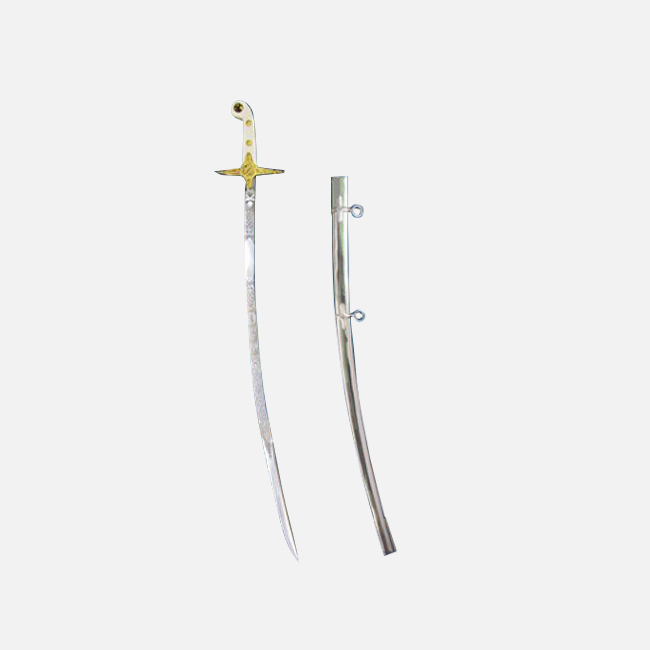 General Officers Sword and Scabbard
The General Officers Sword has a finely etched and distinctively curved single-edged blade which is double-edged for the last 12 inches of its length. This is a Mameluke sword with a crossed hilt made of ivory, featuring gold plated ornamental mounts. The brass guard of the sword is also gilded.
The steel scabbard is nickel-plated with two loose rings on cruciform bands and a square shoe. The scabbard is thoroughly designed with a plated chape. These swords were mostly carried as dress swords by officers of most light cavalry and hussar, and some heavy cavalry regiments in the British Army at various points during the 19th century.
Crown Swords is the only UK company to provide every pattern of sword and scabbard currently in use by the British and Commonwealth Armed Forces. All of our materials, including our steel, is sourced from UK registered suppliers. Renowned as one of the finest in the world, our steel is produced in a Ministry of Defence audited and approved plant by ISO 9001 accredited TSE UK.
All swords adhere strictly to current MOD regulation and are commissioned to be carried on parade by officers of Her Majesty's Armed Forces and Commonwealth.
Crown Swords offers a 0% payment option when purchasing any officers sword, scabbard and parade package. Enquire today to discuss your tailored plan with one of our experienced consultants.
Each stage of production is overseen by the Former General Manager of Wilkinson Sword, Mr. Malcolm Ordever.

Mr. Malcolm Ordever
Former General Manager of Wilkinson Sword