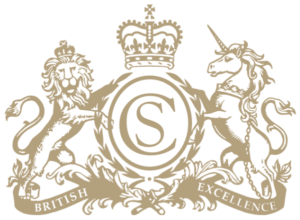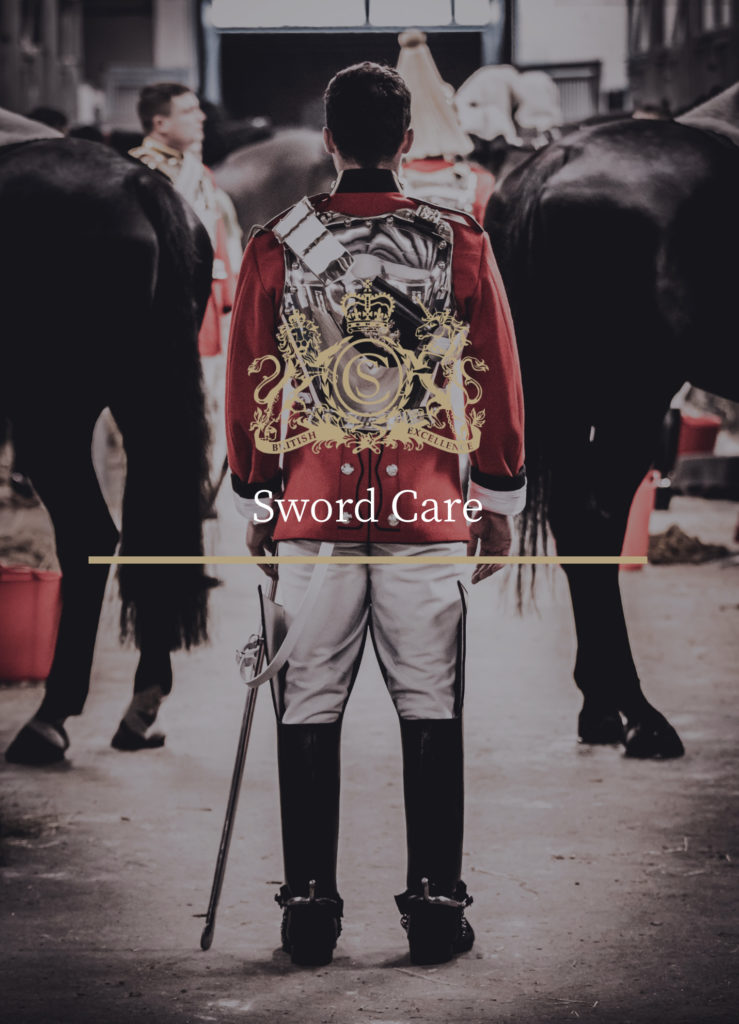 High-carbon steel
Crown Swords blades are made from hardened, tempered, highly polished high-carbon steel in accordance with MOD specifications. High-carbon steel offers a superior finish to acid etched engraving and is the superior choice of blade steel. A high-carbon steel blade will last a lifetime, eventually becoming part of your legacy if looked after correctly.
---
Handling
Due to the acidity, fingerprints can be particularly damaging to the blade of your sword. If your sword blade is handled without gloves the fingerprints should be removed immediately by buffing with a soft dry microfiber cloth.
The hilt of your sword is made from genuine shark/ray skin. The process of preserving, colouring and stretching the skin is painstakingly undertaken by hand. Gloves should be worn at all times to preserve the skin, in particular hilts that have been dyed white. The sweat from and dirt from your hands can be absorbed, permanently tarnishing the hilt of your sword If your sword is in contact with any type of moisture – dry your sword immediately, particularly the blade with a soft cloth.
Once dried, leave separated from the scabbard for over an hour at room temperature, ensuring any all traces of moisture are naturally evaporated. Also, ensure the inside of the scabbard is dry before re-wiping the blade with a dry soft cloth and applying Vaseline prior to storing your sword.
---
Cleaning
Your sword will only need five minutes maintenance each week to keep it in parade condition. The blade will require wiping clean, inspecting, polishing with a soft microfiber cloth and applying a new fresh layer of blade lubricant or wax. Your scabbard can be treated with black waterproof dubbin prior to use and storage.
---
Parade Cleaning
Your sword requires no cleaning products except a dry soft lint-free cleaning cloth. The gold plating must never be polished with anything except a dry soft lint-free cleaning cloth (brasso will damage your sword). The buffalo leather scabbard can be polished by buffing with a soft cloth and a small amount of black shoe polish.
---
Storage
Moisture in the air can damage your sword over a prolonged period of time. The blade must be confirmed dry before a thin coat of blade lubricant or wax is applied. Do not store in a moist environment and ensure to clean and inspect once per week.
---
Cake Cutting
You may use your sword to cut a cake, however, the blade must be cleaned immediately afterwards and prior to storage in its scabbard. Moisture within food preservatives can be very corrosive to high carbon steel.
---
Champagne
You are strongly discouraged to open a bottle of champagne with your sword. This will no doubt damage the steel and etching.
---
Damage & Restoration
Sometimes inevitably, no matter how much we look after our sword, damage occurs. If your sword is damaged, please contact us immediately so we can advise you on how to restore your sword to pristine condition.
---
Sword Care Products
Crown Swords supplies a number of sword care products to help maintain the condition of your sword. Our cleaning and maintenance kit provides all the necessary products to maintain your sword to an impeccable standard. Equipped with scabbard dubbin, short-term storage Vaseline and long-term storage wax (museum grade) our cleaning kits have all the tools to keep your sword in perfect parade condition.